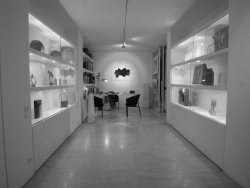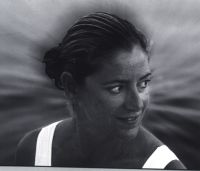 In 1979, at a time when avant-garde expression in art was only acceptable to a small number of people, Medusa Art Gallery was established by Maria Dimitriadis. She presents various new artistic practises as well as exhibitions of painting and sculpture.
Medusa's policy has been based on 'discovering' and systematically promoting young Greek artists who account for the greatest part of its annual exhibition programme.
At the same time the gallery presents the latest works of international artists such as Takis, Mario Prassinos, Alexis Akrithakis, Harold Stevenson, Robert Matta and Costas Coulentianos, in exhibitions which propose new approaches to their art.
In order to encourage the experimental side of contemporary art, a second space was created , from 1992 to 1996, next to the already established Medusa, called Medusa+1, at 21 Xenokratous street, for alternative actions where collaborating artists presented in situ their environments and installations. Thus Medusa+1, opening connection between different fields of research, was playing an important role in the contemporary art scene.
Medusa Art Gallery has hosted the first solo exhibitions of Nakis Tastsioglou, Anton, Yorgos Rorris, Marianna Strapatsaki, Maria Grigoriadou, Eleni Zouni, Lina Bebi, Babis Venetopoulos, Miltos Michailidis, Dora Pullman, Nikos Vlachos and others.
During the last decade, Medusa have set up thematic exhibitions of Greek artists beyond those associated with the gallery and Greek art historians such as Efi Strousa, Manolis Mavrommatis, Lena Kokkini, Maria Marangou, Lina Tsikouta, Bia Papadopoulou are invited as curators of these events.
Since 2004 the white space of Fotis Melios' café at the harbour in Naoussa, Paros, is periodically transformed, throughout the year, by the works of Greek artists presented by Medusa, introducing contemporary Greek art into a cosmopolitan setting.
Medusa Art Gallery focuses its interest and a major part of its production on activities which promote Greek artists on the international scene. In that context Medusa collaborates with organisers of major international shows, presents its associates in international biennales and museums, exchanges exhibitions and establishes constructive bonds with galleries abroad.