Costas Coulentianos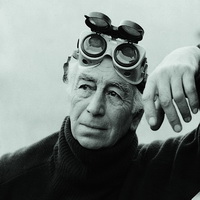 Costas Coulentianos was born in Athens on December 21, 1918. He studied at the Athens School of Fine Arts (ASKT) from 1936 to 1939. In 1940, he volunteered for the Albanian front, and from 1941-1944, he participated in the Greek resistance.
Coulentianos arrived in Paris 62 years ago (in December 1945), with a scholarship from the French government.
He briefly attended the Paris School of Fine Arts, and studied at Zatkin's studio (Le Grande Chaumiere) for a short period
as well. During this time, Coulentianos began to move away from the academic sculptural concepts that he had been taught in Athens.
In 1947, he met Henri Laurens, and this relationship had a large influence on the direction he would take in his career. His sculptures, many made from lead during this period, show Laurens's influence (1947-1952).
In 1952, he focused his work on iron, creating rounded, organic forms. This important period centers on the "acrobat" sculptures (1952-1959). His last acrobat was created in 1959, after which he moved into abstract work.
He had his first solo exhibition in 1962 at the Galerie de France, which was quite well known at the time. An important characteristic of his sculptures of this period (1960s) is the original welding technique with bronze rods melted onto each piece and then polished. Coulentianos also started to work with architects, creating sculptures that were integrated into architecture. He created large, voluminous pieces for public buildings and spaces, as well as numerous mural installations in plaster or concrete from single, repeated block patterns created from polyester molds.
In 1966, Coulentianos moved to the center of France, where he built his studio and designed and constructed large looms for the production of tapestries (1969-1975). This period is also when he began creating his first "bolted" sculptures, which would define the technique he then used to create sculptures during the later part of his life.
He taught at Les Art Deco (Paris) from 1975-1976, and following his move to the south of France in 1979, he taught at the Marseille School of Fine Arts (1979-1980).
Between 1979 and 1982, he created a new series of sculptures called "New Generation," with which he represented the Greek exhibit at the Venice Biennale in 1980. From then on, and for the last fifteen years of his life, he worked very closely with Greece, often having exhibitions, right up through 1991.
Coulentianos takes his place in the history of sculpture as a true artist, both in his expression and his technical prowess. His work stems from an essential theme-woman-as a naked figure: seated, reclining, or as a standing acrobat or dancer.
Step-by-step, he was drawn to question the traditional concepts he had been taught, and eventually freed himself from expression through the representation of the human form. His work no longer expressed that which can be seen, but instead, showed his creative inner forces.
Loyal to his strong roots that determined his early artistic training in Greece, he remained particularly attached to ancient Greek sculpture, and went on to create works that had simplicity, authority, balance, and life force.

Solo Exhibitions
1952 Monts et par Vaux bookstore, Casablanca
1955 Pain Gallery, London
1956 Obèlisk Gallery, London
1962 Galerie de France, Paris
Exhibition in Athens
The May Salon, Tokyo
1963 Atelier Sopho, Lyon
1964 Bertha Schaeffer Gallery, New York
Venice Biennale
1965 Merlin Gallery, Athens
1969 The 8th District Theatre (Theâtre du Huitième), Lyon
1971 Historial Gallery, Nyon, Switzerland (tapestries and sculptures)
1972 The Châlon-sur-Saône Cultural Center (tapestries and
sculptures)
La Demeure Gallery, Paris (tapestries and sculptures
1973 Nicole Fourrier Gallery, Lyon
1974 The Art Gallery, Athens
1975 Nοëlla Gest Gallery, Saint-Remy-de-Provence,
1977 The Amiens Cultural Center,
(tapestries & sculptures)
1980 Interbureau, Lyon
1982 Venice Biennale
1983 The French Institute, Salonika
The French Institute, Athens
The National Theatre of Marseille, La Criée
1984 Medousa Art Gallery, Athens
Epsilon Gallery, Brussels
1986 Zoumboulakis Gallery, Athens
1989 The Station Gallery (Galerie de la Gare),
Bonnieux, Vaucluse
The Estrine Hotel, The Van Gogh Art Center,
Saint-Remy-de-Provence
1991 Saint Albon Golf Course, Drôme
(monumental sculptures)
Ileana Tounta Contemporary Art Center, Athens
1992 Salonika City Hall, Geni Tzami Cultural Center
Modern Art Museum, Santiago, Chilli (prints)
Presentation at the symposium on sculpture,
Santiago, Chilli
1997 Retrospective exhibition, Couvent Des Cordeliers, Paris, France
2000 Exhibition of Monumental Sculptures, Hebert Museum, Grenoble, France
2002 Retrospective exhibition, Musée de Chintreuil,Pont de Vaux, Ain, France
2008«Bas-relief»,Medusa Art Gallery,Athens
2009 Museum of Contemporary Art,Florina, Greece
2011 Coulentianos – Prassinos , Medusa Art Gallery,Αthens
Coulentianos – Philolaos, Galerie Jean – Louis Danant, Paris, France
Group Exhibitions:
Costas Coulentianos participated in close to 100 group exhibitions throughout the world. Notably in: Brazil, Belgium, England, France, Holland, Italy, Japan, Morocco, New Zealand, Sweden, Switzerland, and the United States.

Architectural Works:
Costas Coulentianos created more than 50 public
installations, including:
France: Paris, Bourg en Bresse, Salon en Provence, Grenoble, Vienne, Marseille, Aix-en-Provence, Metz, Toulouse, Lyon, Cherbourg, Clermont-Ferrand,
Saint-Etienne, Cambrai
Belgium: Brussels
Switzerland: Geneva
Italy: Bologna
Chilli: Santiago
Read More...