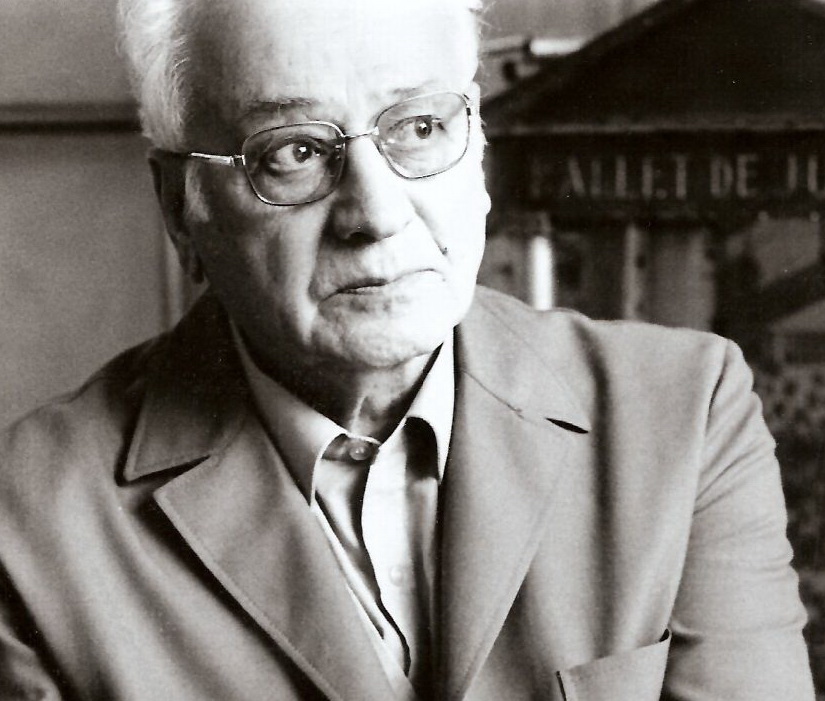 George Zongolopoulos was born in Athens in 1903. He studied sculpture in the Supreme School of Fine Arts in Athens, with T. Thomopoulos as his teacher (1924-1930).
Between 1926 and 1927, he worked in the Department of Restoration of Ancient and Byzantine Monuments for the Ministry of Education. Nevertheless, his interest was not restricted to sculpture. On the contrary, he also engaged in painting and architecture. He worked in the Architectural Department of the Ministry of Education from 1930 to 1938. In that period he designed school buildings and churches. He was a teacher in Sivitanidios School of Arts and Crafts from 1933 to 1944.
In 1936 his works appeared for the first time in a gallery in Athens. After that he held a considerable number of
solo exhibitions, participated in group exhibitions and received several distinctions, not only in Greece but all over the world. Also, he has had many award winning competition entries and commissions.
In 1937 he traveled to Paris where he studied and familiarized himself with the work of Ch. Despiau. He studied works of Romanesque, Gothic and contemporary sculpture. In that same period he met and later on married (1936) the painter Eleni Paschalidou, who was Parthenis' student. Between 1949 and 1950 he worked at the atelier of the sculptor Marcel Gimond in Paris, with a scholarship granted by the French Government.
From 1952 to 1954, after having been granted a scholarship by the Greek State Scholarships Foundation, he went with Eleni to Italy where he studied bronze-casting techniques (Fonderia Nicci, Rome and Fonderia Domeniccini, Pistoia). He studied the sculpture of the renaissance in Florence and Padova, as well as the work of Michelangelo, Pisano, Donatello, Manzoni, Manzu, Marini, Pomodoro and the Etruscan Art.
He was a member of the select committee of the Greek State Scholarships foundation with the aim of facilitating the studies of sculpture scholars abroad (1957-1959).
He also was a member of the Societé Européene de Culture since 1953 and sat on the executive council from 1960 to 1988 in Biennale of Venice.
In 1975 he took part in a round table discussion on the theme of solitude and communication at the 20th International Meeting in Geneva.
In 1980 he took part the 2nd International Visual Arts Meeting in the European Cultural Centre in Delphi.
He has been an active member of such groups as 'Techni', the Union of Free Artists, the Association of Free Artists, the Association of Greek Artists, 'Stathmi', 'Tomi' and the Group for Communication and Education in Art and has taken part in their exhibitions and meetings.
Many of his works belong to private collections and Foundations in Greece and all over the world or adorn public places, buildings and squares. Some of his most noted works in public places in Greece are, the Monument to the Heroines of Zalongos (1954-1960), the Monument to the Fallen in the Municipality of Nikaia, (1955), the Cor-ten sculpture outside the International Fair Grounds in Thessaloniki (1966), the Monument to the Cypriot student Kyriakos Matsis in the Aristotle University of Thessaloniki (1967), 'Diaphragm' Ethniki Asfalistiki Building (1973), 'Olive tree', Alpha Bank in N. Psychiko (1974) , 'Buckler', European Cultural Center, Delphi (1989), 'Umbrellas' (1997), Thessaloniki seafront, 'Umbrellas' (1998), Kifissias Avenue, Municipality of N.Psychico, 'Atrium' (1999), Syntagma Square metro station, 'Omonia', Omonia Square, (2001), 'Olympic Rings', Athens International Airport (2001) 'Column', Athens metro Evangelismos (2001).
He represented Greece at the Venice Biennale (1940, 1956, 1964, 1993, 1995, 1997), the Sao Paolo Biennale, (1957) and the Cairo Biennale (1946). He also participated in Europalia, Brussels (1982), the Contemporary Sculpture Exhibition, in Rodin Museum, Paris (1963), in the Salon de la jeune sculpture in Paris 1968-1975, the exhibitions Grand et jeunes d'aujourd'hui, Paris 1979 -1988 and 1990, Salon de Comparaisons, Paris 1986, Art Athina, 1993 and 1996, the International Sculpture Exhibition in Collioure, France in 1988, in 'Memories- Regenerations-Quests', National Art Gallery, Athens, 1985 and many more.
Zongolopoulos was particularly concerned that his sculptures should co-exist harmoniously with their environment so he frequently collaborated with architects. In the last period of his work, since 1972 the element of motion has remained a fundamental feature of a number of his compositions along with the additional water and sound. His basic sculpting material is stainless metal in a variety of forms combined with objects such as lenses, umbrellas, pipes and rods.
The awarding of the hydrokinetic work 'Umbrellas' in the competition for the' 'Cour d' Honneur' and its installation at the European Council Building in Brussels in 1995, has been quite honorary.
In February 2004 the sculptor established the public welfare 'George Zongolopoulos Foundation' located in his home- atelier. He died on 11th May of the same year.
Individual Exhibitions:
1936 Stratigopoulou Art Room, Athens
1940 Biennale of Venice
1948 Zachariou Gallery, Athens
1956 Biennale of Venice
1962 Athens Technological Institute of Doksiades, Athens
1962 "ART" room, Thessaloniki
1964 Biennale of Venice
1971 Athens Hellenicamerican Union, Athens
1976 Campo Pisani, Venice
1977 Warsaw Museum, Zacheta, Polland
1978 Budayari Palota National Museum, Budapest, Hungary
1979 Zoumboulaki Gallery, Athens
1982 Εuropalia Hellas, Palais des Beaux-Arts, Brussels
1984 Goethe Institute, Athens
1990 Jean Bernier Gallery
1991 BASEL 22, Jean Bernier Gallery
1991 FIAC, Denise René Gallery
1991 Biennale of Venice
1992 Jean Bernier Gallery
1993 Biennale of Venice
1993 Von Ventig Biennale
1993 Macedonian Museum of Contemporary Art, Thessaloniki
1995 Centenair Biennale of Venice, Riva dei Giardini
1995 Kappatos Gallery, Athens
1997 Biennale of Venice, Riva dei Giardini
Group Exhibitions:
1936 Group of Art, Athens
1938 Group of Contemporary Architecture, Cultural Centre, Athens
1946 "Auberge de la Jeunesse" French Institute, Athens
1946 Casa d' Italia, Athens
1946 Biennale of Cairo
1946 Stockholm Museum
1948 Group of Art, Thessaloniki
1953 "Unidentified Political Exile", London
1954 Belgrade Museum
1956 Biennale of Venice
1956 International Architectural Exhibition, Zappio, Athens
1957 Biennale of Sao Paolo, Brazil
1957 French Institute, Athens
1958 "Armos" Gallery, Athens
1958 At Hilton Hotel, Athens
1958 "Zigos" Gallery, Athens
1958 "Merlin" Gallery, Athens
1958 "Nees Morfes", Athens
1959 "Creuze" Gallery, Paris
1962 Bezabel Museum, Israel
1963 Rodin Museum, Paris
1963 At Hilton Hotel, Cyprus
1963 Grattacielo Gallery, Milan
1963 "Z" Gallery, Thessaloniki
1968 – 1975 Salon de la Jeune Sculpture, Paris
1963 "Perron" Gallery, Geneva
1973 "Desmos", Porto Rafti, Greece
1979 – 1988 – 1990 Grands de Jeunes d' Aujourd' hui, Grand Palais, Paris
1983 Center of Scientific Studies, Athens
1984 "Third Eye (Trito Mati)" Gallery, Athens
1984 Association of Contemporary Art, Athens
1984 Cultural Centre of Athens, Athens
1985 Salon de Mai, Grand Palais, Paris
1986 Salon des Comparaisons, Grand Palais, Paric
1986 "Memories – Reconstractions – Quests" National Gallery, Alexander Soutzou Museum, Athens
1987 Festival of Patra
1988 International Contemporary Sculpture, Colioure, France
1991 BASEL 22, Jean Bernier Gallery
1991 FIAC, Denise René Gallery
1991 Architecture Internationale – Biennale of Venice
1993 "De la main à la tête, l'objet théorique", Domain de Kerguéhennec, Bignan, France
1993 Galerie 3 – Art Athina
1995 Cultural Centre of Rethimno, Crete
1996 Denise René Gallery – Art Athina
1997 Centre of Contemporary Art, Rethimno, Crete
After his death other exhibition took place, such as:
2008 – 2009 "Eleftherios Venizelos" International Airport of Athens: "Reference to his work"
2008 – 2009 Athens Concert Hall: "George Zongolopoulos – sculpture, painting, designs"
2010 Gallery of Psyhico, Athens: "Eleni Zongolopoulou, George Zongolopoulos – Together in Life and in Art"
Awards, Contests and Distinctions
1937 Pedion of Ares: Andreas Miaoulis bust
1947 Monument of Saint George municipality, Piraeus: 1st Prize
1952 Collaboration with the architect P. Karantinos in an architectural contest: 1st Prize for a church with capacity for 1000.
1955 Nikaia Monument: 1st Prize
1954 – 1960 Zalongo Monument, Epirus: Won the 1st prize in a collaboration with P. Karantinos.
1958 – 1960 Omonia Square, Athens: Collaborate with the architect K. Bitsios and won the 1st prize for the configuration of the square with the fountains and the "Poseidon" sculpture. (The sculpture was never installed)
1959 Architectural contest for a school in Ag. Paraskevi, Athens: 2nd Prize
1966 International Exhibition in Thessaloniki: "Sculpture IET", 1st Prize
1967 Aristotelio University of Thessaloniki: Monument for Kyriako Matsi, a student from Cyprus, 1st Prize
1973 "Diaphragm" sculpture at "Astir" Insurance Company, Athens
1974 "Elia" sculpture at Alpha Bank, Athens
1981 Collaborate with the architect Alexander Tombazis and won the 1st prize in a contest for the configuration of Klathmonos square. (Was never accomplished)
1986 Collaborate with the architect Alexander Tombazis and won the 1st Prize for the Monument of National Resistance of Gorgopotamos (never installed)
1986 Monument for the Fighters of the Resistance placed at the University of Athens for the resistance during the German/Italian occupation: 2nd Prize (There was no first prize)
1989 "Aspida (Shield)" sculpture, European Cultural Centre of Delfi
1991 Monument for the Battle of Crete at Chania, collaboration with the architect Alexander Tombazis, 1st Prize (was never installed)
1993 "Umbrellas" water motored sculpture, Museum of Contemporary Art of Macedonia – Thessaloniki
1995 The sculpture "Umbrellas" was placed on a pontoon at the Grand Canale in Biennale of Venice
1995 The sculpture "Umbrellas" won the 1st prize and was placed at the main entrance of Cour d' Honneur at the EU and Ministers of the Council building, Brussels
1997 "Umbrellas" was placed at Thessaloniki port for the "Thessaloniki as the Cultural Capital of Europe":
1997 "Tel – Néant" was placed on pontoon at the entrance of the Biennale of Venice, Riva Dei Giardini
1998 "Tel – Néant" was placed in front of the Hellenic Cultural Institute at Wittenberg Square in Berlin
1998 "Umbrellas", P. Psychiko, Athens
1999 "Stili (Column)", Weimar, Germany (Cultural Capital of Europe)
1999 "Aithrio", Subway Station at Syntagma Square, Athens
2001 "Five Circles", Omonia Square, Athens
2001 "Olympic Rings", International Airport of Athens
2001 "Stili (Column)", Rizari Park, Athens
2001 "Tel – Néant", OTE building, Maroussi, Athens
Sculptures that were placed after his death
2006 "Tel – Néant", Presidential Palace's garden, Athens
2006 "Diaphragm", Ethniki Asfalistiki main building, Syggrou Ave. Athens
2010 "Zalongo", Presidential Palace's garden, Athens
2010 "Poseidon", "Irana" "Stili (Column)", "Olympic Ring", "Sculpture IET" and "Alexandros" were placed at the George Zongolopoulos Square, Psychiko, Athens.
Read More...